Post Date: 11 Jan 2019
Types: Full Time
Education: Bachelor Degree
Salary: -
Location: -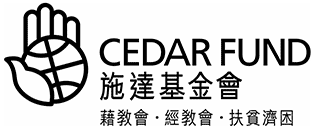 Vacancy in Programme Department (China Project Supervisor) 中國項目主任
Established in 1991, CEDAR Fund (施達基金會) is a cross-denominational Evangelical organization, serving those who suffer from poverty in Asia and Africa, with a vision to build a just and compassionate world.

CEDAR is currently searching for qualified person to fill the captioned position. Details are as follow :
Descriptions
Key Responsibilities & Duties :

Responsible for the provision of overall leadership to CEDAR's Kunming Office in Yunnan Province, China

Establish, maintain, and strengthen stakeholder relations such as project partners and local government at different levels and areas

Provide overall project management in line with CEDAR's vision, mission, and strategy
Key Requirements :
Mature believer of Jesus Christ and passionate to serve the Lord and the needy

University graduate, preferably in social or community development work disciplines

At least 6 years working experience preferably in social or community development work, of which a minimum of 3 years' experience at managerial level

Fluent written and spoken English and Putonghua

Require to reside in Kunming and regular travel to remote areas
Enquiries
If you are interested in joining our team to serve the poor for Jesus Christ, please send your application letter with full resume, current and expected salary to the below email address recruit@cedarfund.org

All personal data collected with only be used for recruitment purpose and will be treated confidentially. Information of unsuccessful candidates will normally be destroyed 2 years after the recruitment exercise is completed. Due to the implementation of the Sexual Conviction Record Check Scheme(SCRC), CEDAR Fund may request the prospective employees of relevant positions to undergo SCRC.