Post Date: 11 Jan 2019
Types: Full Time
Education: Bachelor Degree
Salary: -
Location: -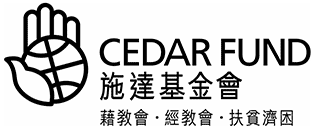 Vacancy in Ministry Support Department (Head of Ministry Support) 事工支援部主管
Established in 1991, CEDAR Fund (施達基金會) is a cross-denominational Evangelical organization, serving those who suffer from poverty in Asia and Africa, with a vision to build a just and compassionate world.

CEDAR is currently searching for qualified person to fill the captioned position. Details are as follow :
Descriptions
Key Responsibilities & Duties :

Provide strategic leadership and management to oversee, and take full responsibility of the operation of the Department, which include but not limited to administration, finance and accounting, human resources and information technology functions

Facilitate the development, maintenance, and continuous improvement of all the Organisation's policies, regulations, guidelines and manuals, in close collaboration with other departments, with an aim of ensuring the Organisation possesses the most appropriate internal governance system

Ensure the Organisation is fully complied with all legal and statutorily requirements
Key Requirements :
Commit to the vision, mission, and operation principles of CEDAR Fund

Mature believer of Jesus Christ and passionate to serve the Lord and the needy

University graduate with no less than 4 years of management experience

Fluent in Chinese and English

Willing to learn and able to see the big picture

Willing to travel occasionally
Enquiries
If you are interested in joining our team to serve the poor for Jesus Christ, please send your application letter with full resume, current and expected salary to the below email address recruit@cedarfund.org

All personal data collected with only be used for recruitment purpose and will be treated confidentially. Information of unsuccessful candidates will normally be destroyed 2 years after the recruitment exercise is completed. Due to the implementation of the Sexual Conviction Record Check Scheme(SCRC), CEDAR Fund may request the prospective employees of relevant positions to undergo SCRC.