Post Date: 17 Jun 2022
Types: Full Time
Education: Certificate / Diploma
Salary: -
Location: -
Website: -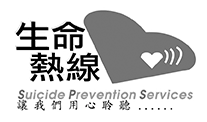 Program Officer (YLE001, Life Education for Youths)
Suicide Prevention Services is a registered charity providing sustainable, volunteer-based suicide prevention services in the community. It includes a 24-hour Suicide Prevention Hotline, Suicide Prevention Service for the Elderly, Services for Survivors of Suicide and Sudden Death Loss, Community Education & Life Education for Youths.
Descriptions
Main Duties :

Render individual consultation and run support groups for the secondary students with emotional distress or suicidal thoughts;

Provide trainings and educational workshops for teachers and parents;

Organise life education programs;

Provide volunteer training and support services for youths with emotional distress or suicidal thoughts.
Requirements :
With recognised Diploma or above in Social Work, Counselling or Psychology;

Working experience in youth counselling, school setting or volunteers services is a definite advantage;

An energetic and mature team player with strong interpersonal skills & outgoing personality;

Independent and multi-tasking skills;

Good PC knowledge, including Excel, Word, PowerPoint.
Enquiries
Interested parties please send resume with last and expected salaries to the Executive Director, Suicide Prevention Services, P.O. Box 83350, Concorde Road Post Office, Kowloon or e-mail to admin@sps.org.hk before 6 July 2022.

Successful candidates must consent to undergoing the "sexual conviction record check".

All information provided will only be used for recruitment related purpose.