Post Date: 06 Oct 2021
Types: Full Time
Education: Certificate / Diploma
Salary: -
Location: Yuen Long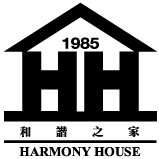 Program Assistant for Family Harmony Space (Yuen Long)
Harmony House is a charitable organization providing a wide range of services to support the victims and combat domestic violence. We are seeking dedicated people who share our values and contribute to the growth of the organization.
Descriptions
Ref Code : PA

Responsibilities :

Provide support in program implementation

Assist in the production and distribution of promotional materials

Monitor and review website and social media

Keep records and compilation of statistical information and report

Assist in reception work
Requirements :
Diploma or above

At least 1 year working experience

Good command of spoken and written Chinese

Good computer skills required

Responsible, willing to learn and multi-tasking
* 5-day work / 44 work hours per week
Enquiries
Applicants please send the Application Form with your full resume and expected salary before 20th October 2021 to the Executive Director, quoting the reference code to recruit@harmonyhousehk.org

Application Form can be downloaded from our website :
https://www.harmonyhousehk.org/eng/job-vacancy

Applicants who are not contacted within one month after the application deadline may consider their applications to be unsuccessful.

All information provided will only be used for recruitment related purpose.