Post Date: 30 Nov 2018
Types: Full Time
Education: -
Salary: -
Location: Kwun Tong Area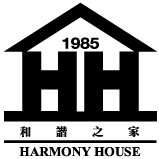 Harmony House is a charitable organization providing a wide range of services to support the victims and combat domestic violence. We are seeking dedicated people who share our values and contribute to the growth of the organization.
Descriptions
基本中文書寫及閱讀

負責清潔等工作

星期一至六,每天工作 3 小時

享有有薪年假、銀行假期等福利
Enquiries
Applicants please send the Application Form with your full resume and expected salary before 15th December, 2018 to the Executive Director, quoting the reference code to recruit@harmonyhousehk.org

Application Form can be downloaded from https://www.harmonyhousehk.org/eng/job-vacancy

Applicants who are not contacted within one month after the application deadline may consider their applications to be unsuccessful.

All information provided will only be used for recruitment related purpose.