Post Date: 09 Nov 2018
Types: Full Time
Education: -
Salary: -
Location: -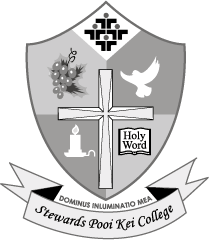 Descriptions
* Commencing on 1st September 2019

Requirement :

Be supportive of the Christian ethos of the School

Shares the vision and mission of Stewards and the School

Has a passionate commitment to education and nurturing the youth

Has achieved the qualifications and requirements set by the EDB

Possesses strong leadership, organization and administrative skills

Be proficient in English, Chinese and Putonghua
Stewards Pooi Kei College is a vibrant Christian and English Medium of Instruction (EMI) DSS school with international perspective. It was established in 2004 under the auspices of Stewards. We are dedicated to preparing tomorrow's leaders with character and intelligence through the provision of quality Christian education. We are seeking an experienced, well-qualified professional thoroughly conversant with the Hong Kong education curriculum with a passion for leading the school's future development.
A remuneration package compatible with the terms in Aided Schools will be offered.
Enquiries
Applicants should send under confidential cover (1) a covering letter explaining why they are interested to apply for the post, (2) full resume, (3) brief personal view and perception of how to prepare tomorrow's leaders with character and intelligence, and (4) two references, by post to The Chairman, Principal Selection Committee of Stewards Pooi Kei College, c/o Stewards, 145 Hong Ning Road, Kwun Tong, Kowloon.

Closing date for applications : 26th November, 2018

Applicants not invited for interviews by 15th December, 2018 may consider their applications unsuccessful.